My new niece is here!!!!!
My new niece Samantha(Sam) Kathleen made her appearance today at 9:57am. She weighed in at 10lbs. 10oz. and 21" (Sarah is very happy she delivered her by C-section). :) I have some pictures in no particular order.
This one is my Dad and Sam:
This one is my nephew Sean who is 3 years old (the new big brother):) He got to see Sam, eat an ice cream and he was ready to go, poor kid was bored. We wouldn't let him poke Sam in the head, or bounce on Mom's bed, so he was ready to go to Papa's house. :)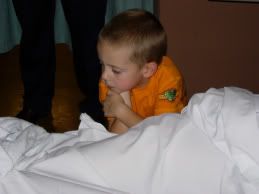 This is my Mom and Sam. Too bad she isn't a proud Grammie. :)
This is a picture of me and Sam. I was the first one to hold her besides her Mom(Sarah) and Dad(Tom, my brother)! I was so excited. I wasn't able to be there for Sean's birth since he was born in West Virginia and I live in TN. So I was really excited to be there to hold Sam on her birth day. :)
This is my brother Tom holding his new daughter. I think she has him wrapped around her little finger already.
I didn't post any pictures of the new Mom as I didn't think she would appreciate it. I'll get pictures of her up in a couple of days when she isn't sooo exhausted from surgery. I didn't get a picture of Sam's other Grammie holding her on my camera. I did take one on her camera though, so at least we have it. :) I'm sure I'll post more pictures later. Right now I'm going to go cool off with a nice glass of iced homemade lemonade. :)