More Pictures of my niece Sam
Joe and I went to visit my brother Tom, SIL Sarah, nephew Sean and newest niece Sam. We took lots of pics and I've posted some below to show her off. :) She is such a chunk, but she is the best baby. She isn't even a week old and she is sleeping for 4 hour stretches, which is unusual in a breastfed baby. Not that Sarah is complaining. :) Sam is so much easier than Sean was at the same age. Sarah is grateful she is so easy as she had a very rough pregnancy.
Ok, let's get to the pictures. Here is Sam being held by her Grammie (my Mom).
Here is Sam being admired by both Grammies. Sean was thrilled that he had 2 Grammies at his house at the same time. :)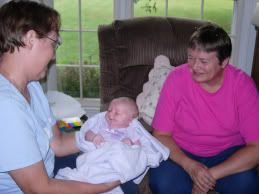 Here we have Papa and Sam (can you say Princess?)
Here we have Sam getting her first manicure by her Mom.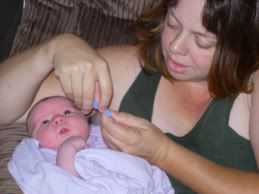 Here we have 2 pictures of the Little Princess. Note the matching blanket and outfit. :)